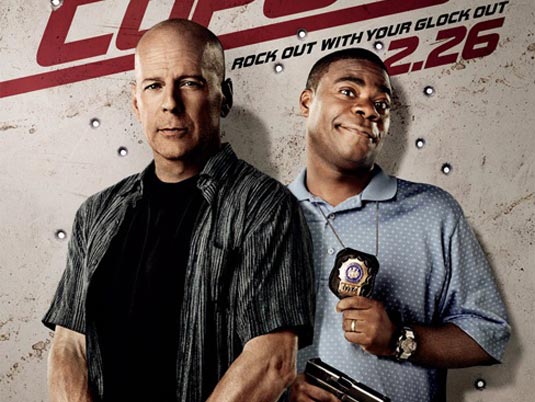 Kjo komedi bën fjalë për një polic të vjetër të NYPD të cilit i vidhet karta e bejsbollit. Meqë ajo kartë është e vetmja mënyrë për të paguar shpenzimet e martesës së vajzës së tij, ai kërkon ndihmën e partnerit të tij për të kapur hajdutin.
Regjisor: Kevin Smith
Skenari: Robb Cullen, Mark Cullen
Yje: Bruce Willis, Tracy Morgan dhe Juan Carlos Hernández
Kohëzgjatja: 107 minuta
Zhanri: Aksion | Komedi | Krim
Data e daljes:
26 Shkurt 2010(SHBA)
Me aktorët: Bruce Willis, Tracy Morgan, Juan Carlos Hernández, Cory Fernandez, Ana de la Reguera, Jason Hurt
Storyline
After a clumsy operation trying to capture a drug dealer, the N.Y.P.D Detectives Jimmy Monroe and Paul Hodges are suspended for one month by their Captain Romans. Jimmy decides to sell his rare baseball card to pay for his daughter's expensive wedding while his jealous partner believes that his wife is cheating on him with their next-door neighbor. When Jimmy sells his card to a memorabilia store, the place is burgled by two small-time thieves and the detective loses his card. They track down the thieves.
Box Office
Buxheti:
$37,000,000(përafërsisht)
Fundjava e daljes:
£64,935(Britani e Madhe)(23 Maj 2010)(127 Kinema)
E përgjithshme:
$44,867,349(SHBA)(16 Maj 2010)

Shkarko titrat shqip KËTU