Sequal to Dorm Daze has most of the original group of college students on a cruise ship in the Pacific, putting on a school play which takes a turn involving the theft of a priceless diamond.
Regjisorë:
David Hillenbrand, Scott Hillenbrand
Skenaristë:
Patrick Casey, Worm Miller
Yje:
Gable Carr, Patrick Casey dhe Patrick Cavanaugh
Kohëzgjatja: 100 minuta
Zhanri: Komedi
Data e daljes:
14 Dhjetor 2006 (Rusi)
Me aktorët:
Gable Carr, Patrick Casey, Patrick Cavanaugh, James DeBello, Marieh Delfino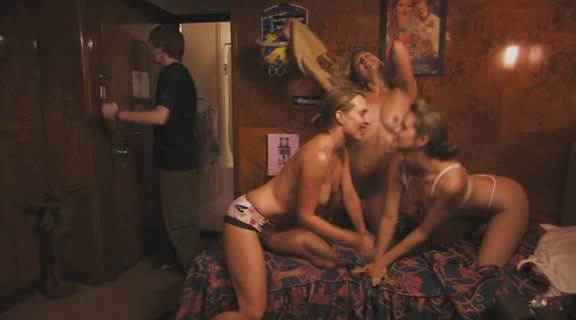 Storyline
The gang from Dorm Daze is back, but this time they're on a cruise ship on a tropical voyage through the high seas. The captain and crew of the Surveyor, a floating classroom for Billingsley University's Sea program, is about to make a voyage they'll never forget. The cruise makes an educational stop at the island of San Paradiso, where the students are supposed to explore an important archaeological site. Things go from normal to crazy as their visit coincides with every other college's spring break. The moment the boat docks, classes are over! For these Billingsley students, their Semester at Sea will be an adventure no one will ever forget.
Box Office
Fundjava e daljes:
RUR 4,998,330 (Rusi) (17 Dhjetor 2006)
E përgjithshme:
RUR 9,787,370 (Rusi) (24 Dhjetor 2006)

Shkarko titrat shqip KËTU të Dorm Daze 2 (2006)










Shkarko titrat shqip KËTU të National Lampoon Presents Dorm Daze (2003)